Depression is a leading cause of disability worldwide, affecting 10-15% of adults globally. It is one of the leading risk factors for suicide. Researchers are increasingly exploring medical marijuana (also known as medical cannabis) as a potential treatment to help with depression due to the side effects caused from conventional medical treatment.
Quick Summary
Despite available conventional treatment for depression, efficacy is limited and side effects such as weight gain, sexual dysfunction, and others may cause more harm than benefit.
Medical marijuana may be a suitable treatment option when other treatments have not provided relief or are causing undesirable side effects.
A number of observational studies have found patients who use cannabis reported reduced depression compared to non-users however more research needs to be done to understand the connection.
Research finds that patients should start with a CBD formulation and then consider adding in THC if CBD alone is ineffective.
In Australia, medical marijuana (including CBD) is a scheduled medication and patients should discuss treatment with their doctor. If your doctor is not open to the conversation you may wish to speak with one of our medical marijuana doctors by booking in an initial consultation.
Role of Medical Marijuana in the Treatment of Depression
Mood and sleep disorders, such as depression, anxiety and insomnia are common indications for treatment with medicinal marijuana.5 Doctors can prescribe medicinal marijuana for depression in Australia with approval from the Therapeutic Goods Administration (TGA). In fact, Anxiety is the number 2 indication for prescribing medical marijuana in Australia with over 51,000 SAS-B applications approved to date:
Studies show that many patients who are prescribed traditional antidepressants expressed doubts on its efficacy and were worried about or had experienced unwanted side effects.6
Side effects are common across antidepressants and may include dizziness, gastrointestinal complaints, dry mouth, sweating, emotional flatness, insomnia, drowsiness, tiredness and decreased libido. This can often lead to non-adherence to treatment.7
Discontinuation of antidepressant treatment is often associated with withdrawal symptoms for most patients that ranges in severity and can last for several months.8,9
Where Does Medical Marijuana Fit in?
Medical marijuana is currently not a first line treatment for depression.9 Patients need to have tried at least one conventional treatment before being eligible. If you want to learn more about eligibility, you can take the free eligibility test available on our website.
Medical marijuana may be used independently of other medicines or as an adjunct therapy along with conventional medical treatment. It's recommended to speak with your treating doctor when commencing therapy because medical marijuana is generally not a one size fits all approach and needs to be customized to the individual patient.
Your doctor may also recommend lifestyle modification to accompany treatment. These may include:10
improving sleep hygiene
undertaking adequate physical activity or exercise
eating a healthy diet
minimising alcohol consumption
reducing stress
reviewing daily routines and social support.

What Are the Benefits of Medical Marijuana?
Medical marijuana is derived from the cannabis sativa plant, also known as the hemp or marijuana plant.11 Cannabis products are generally separated into three categories based on the main active ingredient:12
CBD (cannabidiol) dominant products
Balanced products that contain roughly equal amounts of THC and CBD.
THC (delta-9-tetrahydrocannabinol) dominant products
THC and CBD are known as cannabinoids. These chemicals, found in the cannabis plant, act on cannabinoid receptors in the endocannabinoid system (ECS) in our body.
The highest number of cannabinoid receptors are found in our brain. Cannabinoids modulate how our brain cells behave by controlling the release of our body's chemical messengers.
Although research around cannabis is limited, it appears to have some benefits for depression, especially for dealing with:13
anxiety
cognitive impairment
discomfort before public speaking
conditions potentially related to depression such as chronic pain.14
How Can Cannabis Help With Depression?
THC and Depression
THC directly stimulates your body's cannabinoid receptors and when used correctly, can be a suitable treatment option for depression.
Although studies suggest that non-medicinal (or recreational) cannabis may be associated with increased risk of developing depressive disorder,15 the effects of cannabis are dose dependent and they don't work the same for everyone.
THC itself has been found to produce feelings of euphoria (happiness),16 which is beneficial in depression.
CBD and Depression
Unlike THC, CBD does not cause a high that is generally associated with recreational cannabis use and may reduce the unwanted side effects of THC.17
It also does not display any signals of abuse liability seen in frequent recreational cannabis use.18
In addition to cannabinoid receptors, CBD can activate serotonin receptors. Low levels of brain serotonin, a neurotransmitter, is associated with depression and anxiety.
CBD may help the brain use serotonin more effectively in some people.13
CBD has potential for therapeutic use in psychiatry. It has been shown to be effective at improving anxiety in the short-term19,20 as well as following long-term treatment in patients with clinical anxiety.21
The antidepressant effects of CBD has also been shown in pre-clinical trials, in both short-term treatment22,23 and long-term treatment.24
CBD has been shown to synergise with other medicines that act on serotonin receptors, including many common antidepressants.25
This means that CBD can be effective both as a stand-alone depression treatment, or as a combination treatment with conventional antidepressants.
Other Cannabis Products for Depression
Terpenes are naturally occurring aromatic compounds found in many plants. They create the distinct smell of many plants, such as cannabis, pine, and lavender.
Cannabis plants contain high concentrations of terpenes.26 Because terpenes produce strong smells, they form the basis of many essential oils and play a role in aromatherapy.
Inhaling these scents can affect a persons mood and stress levels.
While there are many different terpenes, research in mice has shown some are good for anxiety and depression:
Limonene is shown to reduce stress and anxiety,27 as well as other therapeutic properties such as anti-inflammatory, antioxidant, antiviral, antidiabetic, and anticancer.28
Pinene is shown to reduce anxiety.29
Linalool odour can induce an anxiety-reducing effect30 and is shown to have antidepressant properties.31
Myrcene is shown to have a sedative effect.32
Evidence Snapshot: What Does the Research Say?
Depression
The number of studies on the antidepressant effects of cannabis is limited. Studies in mice have found that both THC and CBD had antidepressant effects.22,33,34
A 2021 observational study found patients who use cannabis reported reduced depression compared to non-users. Cannabis users also reported superior sleep, pain, and quality of life.12 This is consistent with improvements in both pain and quality of life seen with conventional depression treatment.35,36
Patients who started cannabis treatment had a significant reduction in depressive symptoms, while those with continued cannabis treatment had a modest reduction.12
THC-dominant products did not show much improvement in alleviating depression symptoms. However, CBD-dominant products showed significant improvement in alleviating depression symptoms.12
Anxiety
There have been a handful of trials that examined the effectiveness of THC and CBD on anxiety. Most of these trials showed that they have found a positive effect on anxiety.19-21,37,38
Sleep
Some conventional depression options can impact sleep and keep you awake, such as SSRIs (selective serotonin reuptake inhibitors) and SNRIs (serotonin and norepinephrine reuptake inhibitors).9
Many studies suggest that both THC and CBD have a positive effect in sleep by improving sleep quality, decreasing sleep disturbances, and decreasing the time it takes to fall asleep.17,39
Is Cannabis for Depression Safe?
Like all medicines, cannabis and antidepressants both have side effects. The side effects of cannabis are mild and well tolerated.
In general, the side effects of CBD products are less than those for THC products. Research shows CBD is safe and well-tolerated,40 even at very high doses.41
Table 3: Comparison of common side effects of CBD, THC and conventional antidepressants9,42
| | | |
| --- | --- | --- |
| CBD | THC | Conventional antidepressants |
| Diarrhoea | Increased heart rate | Weight gain |
| Tiredness | Coordination problems | Drowsiness |
| Vomiting | Dry mouth | Agitation |
| Drowsiness | Memory loss | Sexual dysfunction |
| Appetite changes | Slower reaction times | Withdrawal syndrome |
Unlike conventional antidepressants, short-term use of cannabis does not cause withdrawal syndrome when stopped abruptly.43
Conventional antidepressants require you to reduce the dose gradually before stopping to avoid withdrawal syndrome. In some cases, slowly reducing the dose is also needed when you change to another antidepressant.9

How Is Cannabis Prescribed for Depression?
There are almost 400 cannabis products available in Australia.44 Most medicinal cannabis products are unapproved, which means the TGA has not assessed them for safety, quality or effectiveness. Where appropriate, doctors can apply to the TGA for access and explain why medicinal cannabis may be appropriate to treat your depression.45
There are three ways you can access medicinal cannabis for the treatment of depression:
Special Access Scheme (SAS)
Authorised Prescriber Scheme
Clinical trial
Special Access Scheme (SAS)
There is a common misconception that doctors can only prescribe medicinal cannabis as a last resort, after you exhaust all other available treatments. The SAS allows access to unapproved medicines such as cannabis if your doctor has considered other approved treatments, but not necessarily all of them.45
Any doctor can apply to the TGA to prescribe medicinal cannabis for depression (except in Tasmania, where a specialist must apply). If your doctor is not familiar with the process, a cannabis clinic can help. If you would like to learn more, click here to book in with one of our medical cannabis doctors.
Authorised Prescriber Scheme
An authorised prescriber is a doctor who has applied to the TGA for authorisation to prescribe medicinal cannabis directly to specified patients under their immediate care. They do not need to apply to the TGA each time they prescribe medicinal cannabis. This can result in shorter wait times for accessing medicinal cannabis.46
Clinical trials
Clinical trials may be available for different conditions. The trial sponsor needs to apply to the TGA to meet the required standards. If you meet the criteria, you may be able to access medicinal cannabis through the program, but there is no guarantee you can be prescribed medicinal cannabis once the program ends.47
What Dose of Cannabis Do I Use for Depression?
Limited evidence exists for cannabis dosing in depression. Two clinical trials found prolonged treatment with CBD at daily doses of 200 mg significantly decreased depressive and psychotic symptoms in cannabis users. It also improved attentional switching, verbal learning, and memory.48,49
Table 4: Main outcomes achieved from clinical trials of depressive disorders
Trial
Dose
Outcomes
Beale et al. (2018)48
200 mg/day
↓ depressive symptoms

↓ psychotic symptoms

Solowij et al. (2018)49
200 mg/day
↓ depressive symptoms

↓ psychotic symptoms

↑ attentional switching

↑ verbal learning

↑ memory
The general rule for cannabis is to use the lowest effective dose to treat your symptoms (achieved by starting low and going slow).
Your doctor may titrate your dose (slowly increase) over time to find the most effective dose for you.
Your doctor may monitor your symptoms and adjust your dose as needed. Everyone responds to cannabis differently.

What Is Depression?
Depression isn't just the feelings of sadness or low mood we experience from time to time when life gets hard. It can range from sadness that doesn't go away, or losing interest or pleasure in things that you used to enjoy. Depression is a serious condition that can affect your physical and mental health.1,2
Prevalence
Almost half (around 45 per cent) of the Australian population will experience a mental health condition in their lifetime. One million Australians live with depression, making it the second most common mental health condition after anxiety.3
Every year around 65,000 people attempt to take their own life and more than 3,100 people die by suicide.3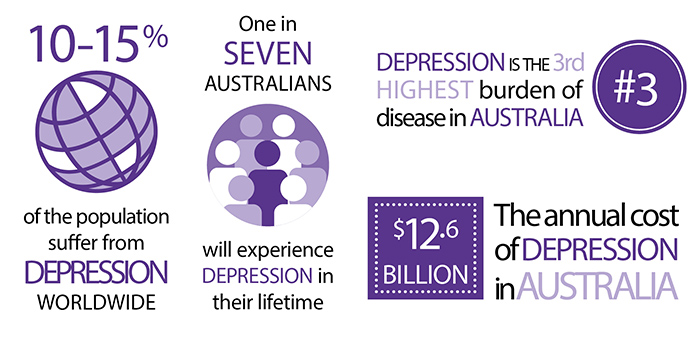 While the exact cause of depression isn't known, there are several personal factors that can increase your risk of depression. These include:2
family history
certain personality traits, such as low self-esteem, self-hate or sensitive to personal criticism
difficult social circumstances, such as bad childhood experiences, homelessness, unemployment or serious medical condition
drug and alcohol use.
Generally, depression does not stem from a single event, but from a combination of different factors.
If you feel that your negative thoughts, moods or feelings are consistently impacting your quality of life or relationships, it's important to seek help. Cannabis may be a treatment option for depression when other treatments have failed or cause intolerable side effects.
Signs and Symptoms
If you feel sad, down, or miserable most of the time for 2 weeks or longer, it could be depression. The signs and symptoms below also indicate depression. It is important to remember that we all experience some of these symptoms at some point. It does not always mean you are depressed. If you are depressed, it does not neccessarily mean you will experience these symptoms.1,2
Table 1: Signs and symptoms of depression1,2
| | | | |
| --- | --- | --- | --- |
| Behaviour | Feelings | Thoughts | Physical |
| Not going out anymore | Overwhelmed | 'I'm a failure' | Constant tiredness |
| Not getting work done | Guilty | 'It's my fault' | Sick and run down |
| Withdrawal from family and friends | Irritable | 'People are better off without me' | Headaches and muscle pains |
| Relying on alcohol | Frustrated | 'Life's not worth living' | Churning gut |
| Not doing usual enjoyable activities | Unhappy or sad | 'Nothing good ever happens to me' | Loss or change of appetite |
| Unable to concentrate | Indecisive | 'I'm worthless' | Sleep problems |
How Is Depression Diagnosed?
If your mental health, or the mental health about someone you care about concerns you, it is important to speak to a health professional. To diagnose depression, your GP may conduct a mental health assessment.
This involves a discussion or answering a questionnaire, as well as a physical examination. This will help your doctor differentiate between a mental and physical health problem.4
Although there is a lot of overlap with anxiety disorders, the conditions are different. However, just because you are experiencing one doesn't mean you don't have the other.
If you would like to learn more about cannabis and anxiety, you can read our Highs and Lows: CBD Oil for Anxiety Disorders article.
When Should I Seek Help?
If you or someone you care about is experiencing symptoms of depression, it is best to seek help early and your GP is a good place to start. There is no need to struggle on your own. Seek help if:4
you are feeling sad, miserable or overwhelmed most of the time
you are experiencing these symptoms for 2 weeks or more
your negative thoughts, mood or feelings affect how you cope at home, school, or work.
If you are not ready to speak with a doctor, contacting a support service may help.
Table 2: Helplines for mental health support services
When is Medical Cannabis Prescribed for Depression?
There is no single effective treatment for depression, and it's different for everyone. It is important to find the right treatment for you and the right health professional for your needs.
Treatment options for depression is divided into:1
psychological treatment (also known as talking therapies), such as cognitive behaviour therapy (CBT) and interpersonal therapy (IPT)
medical treatment, such as antidepressants
complementary treatment, such as cannabis.
What Should Patients and Caregivers Know?
Before starting any medicine, seek advice from your doctor or pharmacist about how much to take, how to take it and side effects to look out for.
Do not drive or operate machinery while being treated with THC. A urine test can detect THC many days after the last dose.17
There is lack of evidence on the most effective dose for depression. Start low and go slow until the desired effect is achieved.
What Are the Next Steps?
In most states in Australia, most GPs and specialists can prescribe medical cannabis including CBD oil. However, they will need to apply under the special access scheme.
If your doctor is unwilling to apply on your behalf or uncomfortable prescribing medical cannabis, they can refer you to our clinic. We do virtual consultations nationwide and in-person at our flagship clinic in Sydney.
Click here for a quick online eligibility test to see if you qualify.
You can also call us at (02) 9098 9128 or email us at info@acclinics.com.au and we can advise if medical cannabis could be an option for your condition.
References